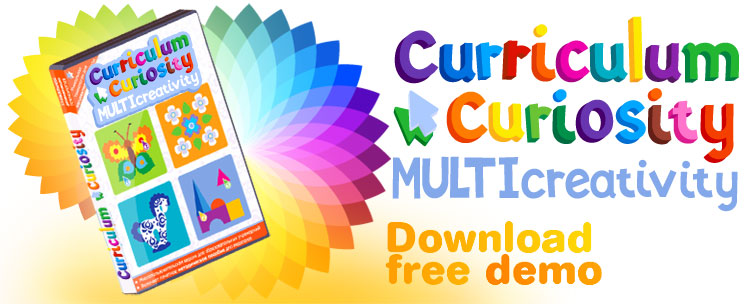 Curriculum Curiosity. MULTIcreativity
Program-methodological complex
Curriculum Curiosity. MULTIcreativity is a program-methodological complex aimed at work with preschool and primary school children in the educational institutions system: nursery school, primary school, additional education institutions.
Curriculum Curiosity. MULTIcreativity enables to organize children's joint creative activity oriented at collective solving a joint task working on one computer. This solution reveals new forms and methods of organizing academic activity, gives new opportunities for developing cognitive abilities, flexibility and mental creativity, forming communicative skills, and other socially significant human features.
The program comprises five interactive workshops for children's joint work:
Tales of Nature – constructing with the use of natural materials;
Flower Fantasy – creative work with elements of flowers and plants;
Builder-Architect – work with geometric figures, building materials;
Artist – work with decorative elements to embellish crockery and toys;
Paper Theater – creating paper dolls for role-playing games.
Each workshop is a creative, cognitive, developing sphere where a child can fantasize and materialize, design and create. They contain elements of different subjects and interactive tools for constructing, modeling, drawing, and designing, doing a project job in technology, fine art, environment, maths and IT etc.
The program is adopted for the unique Microsoft MultiPoint technology and enables to organize academic activity of a few children at one computer with the use of a few computer mice.
Working with the program a teacher can organize joint activity of up to 6 children. On the screen each cursor of a mouse has its own color and number. There are special dividing lines that will help mark off the working sphere of one child from another. The screen can be divided into two, three or four parts. The division can be done vertically, horizontally or obliquely.
In each workshop there are different levels of difficulty that enable to use the program in different age periods. Difficulty levels gradation defines the number and volume of information simultaneously perceived and used by a child, takes into account psycho-physiologic abilities of each age group of children.